Articles
We not only create stunning interactive and static infographics, we can also produce in-depth statistical analysis based on the data.
We can either create a piece for you from your data or we can take your analysis or report and spice it up with graphics. Online articles can contain fully interactive graphics.
If you would like us to create a bespoke article for you, please use the button below to request a quote for the work.
REQUEST A QUOTE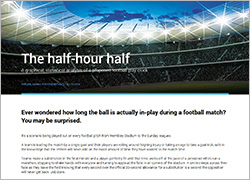 The Half Hour Half A graphical, statistical analysis of a proposed football play clock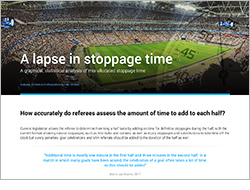 A Lapse in Stoppage Time A graphical, statistical analysis of mis-allocated stoppage time